Tagged content for hammer
Save up to 50% and get over £200 cashback on selected products online and in-store. Join Quidco today!
Jackhammer Rampage

Use your jackhammer to kill as many bunny rabbits as possible.
Jackhammer Rampage
Tontie (Pikopiko Hammer)

Hit the aliens on the head with a hammer when they pop up... addicting fun game!
Tontie (Pikopiko Hammer)
Worm Warrior

Using a hammer, smash the worms going near your steak meat before they infest it and eat it.
Worm Warrior
Rat Shot

Use a rat as a projectile! It's not cruel, they enjoy it really.
Rat Shot
Who Is MC Hammer?

News reporter pronounces MC Hammer's name a little differently than what we're used to.
Who Is MC Hammer?
Darth MC Hammer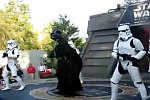 Darth Vader and a group of Storm Troopers bust out the Hammer dance to "You Can't Touch This."
Darth MC Hammer
1